Hah! Soon after Ipad 2 which just recently launched, Apple is preparing Ipad 3 which will be launch this summer. Read the story
here
.
No point if you want to buy Ipad 2 and Windows, wait until they release Ipad 3. The only new things only thinner body, and newer processor, they say double speed compare to Ipad 1. I believe this is Apple strategy to beat new coming Windows for Tablet from Microsoft. According to
Businessweek
, it will be released in 2012.
I hope Microsoft this time will meet their promise. Watch that Apple moves very fast. I think at the time Microsoft launched the product, Apple again steps ahead with new version of iPad next year.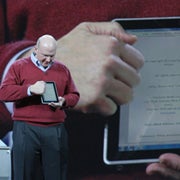 I hope there will be brand new features or technology or ( I wish) new design from Apple. I really like this war. It makes new technologies invent faster.
Or is it just a gossip?